Skip to Content
Sump Pump Replacement in Northern & Southern California
Simonds Machinery Co. Replaces Your Sump Pump
Since 1905, Simonds Machinery Co. has provided exemplary pump service solutions to customers throughout Northern and Southern California. Our sump pump replacement services ensure you have adequate protection against below-ground water from rain, storms, and other flooding situations. A sump pump removes water from your property and moves it away from your foundation to prevent collection and potential water damage. Underground water collects in a sump pit in your basement or crawlspace, and the sump pump efficiently pumps it out to prevent water from getting into your home or business's interior spaces. Water and moisture in your structure can lead to various problems, including pest infestations, mildew or mold growth, wood rot, and other structural damage. If you have a failing sump pump that cannot handle your pumping needs due to age or malfunction, our team can match you with a perfect replacement through our pump sales and switch it out with your old model.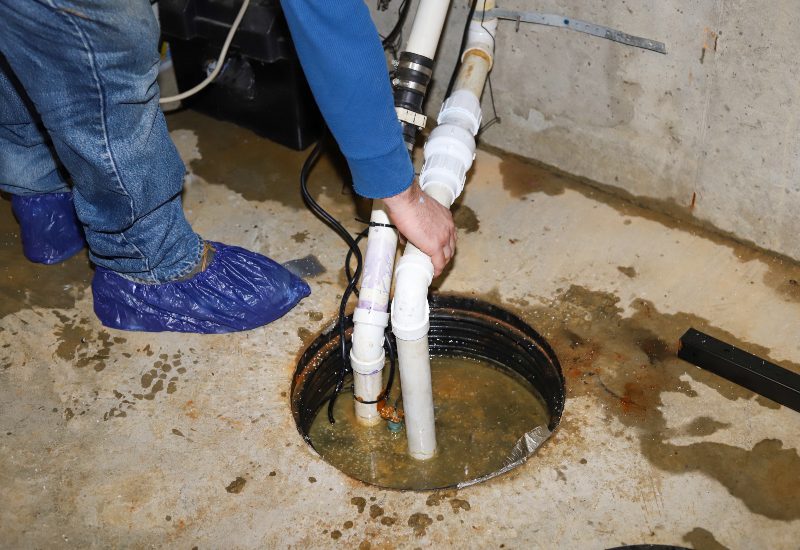 What Causes Sump Pump Problems?
Many people don't think twice about their home or business's sump pump because they expect it to work without any issues whenever a storm rolls through. However, problems can happen, and you may need to replace your sump pump to ensure your crawlspace or basement doesn't flood. You might not use a sump pump every day, but staying on top of maintenance is essential to keep it working optimally. Failing to follow through with basic upkeep can shorten your sump pump's lifespan and cost you more money than staying on top of regular maintenance. Faulty parts and incorrect installation are some leading causes of a malfunctioning sump pump, so it would be better to check your model's condition and performance regularly. As your sump pump ages, it can malfunction and fail to pump out water. Sometimes, a replacement is necessary to protect your property. Simonds Machinery Co. can walk you through your sump pump replacement cost and when it's a better choice than trying to repair it.
Signs You Have a Problem With Your Sump Pump
If your sump pump is making loud noises you can hear in places other than where it's located, this is a primary indication it has a problem. Simonds Machinery Co. wants to keep you informed on what to watch for to ensure you can respond and reach out to us to help correct your issues. Some other signs of a malfunctioning sump pump include the following:
The switches don't work correctly. A faulty or stuck switch is one of a malfunctioning sump pump's most common causes.
Your Basin Has Debris Accumulation. When debris accumulates, it can prevent your float's free movement and trigger your switch during a water incident.
Improper installation leads to an overworked sump pump. This issue can cause your sump pump to run too often or whenever excess water overwhelms your unit's horsepower.
You have power supply problems. You can lose your power supply during storms or flooding. If this problem occurs, you may need to run your sump pump on a generator or another power supply.
There's trouble with your discharge lines. Rocks, roots, rodents, and dirt can clog your pipe if you don't put a lid on your pump. Dirt will accumulate on your pump and get into your discharge lines.
When Should You Replace Your Sump Pump?
If you notice any signs of malfunction, you should never ignore them. Your sump pump will need professional attention as quickly as possible and may require replacement. A sump pump's lifespan is typically around ten years of use. Over time, your pump's parts begin to wear down, leading to malfunctions. Parts will also wear down quicker, and issues can happen when you don't use your sump pump frequently. It would help if you thought of your pump like a battery in a car. You'll be in better shape when you use it more. Repairs can be practical if your sump pump has minor problems or its individual parts begin to malfunction. It's usually time to replace your pump when these issues become more severe. Simonds Machinery Co. is ready to help you with a sump pump replacement. We can help you avoid flooding in your interior spaces when your sump pump breaks. We've listed the two most common signs you need to replace your sump pump:
Your sump pump is making loud noises you can hear throughout your home or business for a significant time.
The pump doesn't turn off after pumping away the water, or it constantly runs.
Benefits of Hiring Us for Sump Pump Replacement
Simonds Machinery Co. is a prime service provider for homes and businesses in various industries throughout Northern and Southern California for many reasons. The benefits of reaching out to us for service include saving money, time, and hassle. Our team of technicians has ample training and experience performing sump pump installations, maintenance, replacements, and many other services. We can also keep your sump pump replacement cost affordable with our competitive prices on a wide array of units for sale and professional work quality. You can be confident we complete our high-quality work correctly the first time, so your sump pump will run efficiently and keep your property dry and safe from water damage immediately. Every job is an opportunity to show customers why we've been a staple service provider for over a century. Contact us today to schedule a sump pump replacement at your home or business.